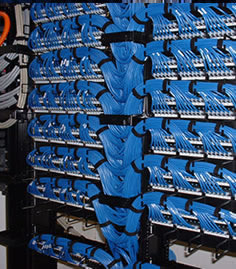 Twisted Networx's industry certified engineers are fully versed in structured cabling, building and data center design, and can help you implement the full range of copper and fiber optic networks to make your facility operate at maximum efficiency for an affordable price.
The Twisted Networx team has vast experience in designing and implementing networks for small business, state and federal offices, and data centers, both within the United States and abroad. Our team is fully qualified in national and international cabling standards.
Our designers will communicate with your contractors, other development teams, and code-enforcement agencies to be sure your needs are exceeded and your facility or business exceeds all building code requirements. We work closely with our customers to develop and deliver innovative solutions for business-critical requirements.
Let us assist your business with the design and installation of your telecommunications infrastructure, copper/fiber network, wireless networks, VoIP, and total integration solutions.
Contact us today for an estimate, or call 888-876-6586